Sidekick Tote & Megan Travel Tote Pattern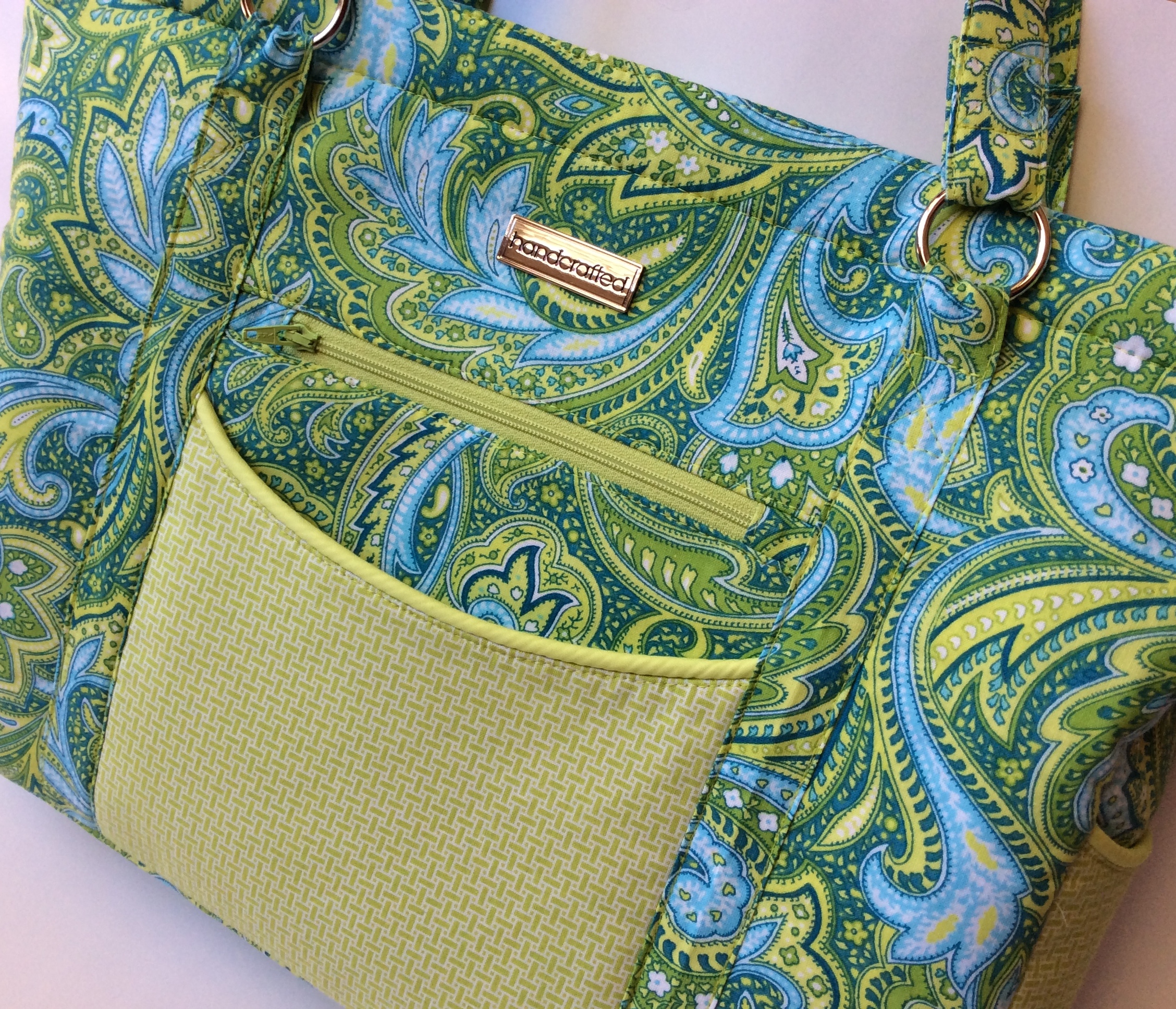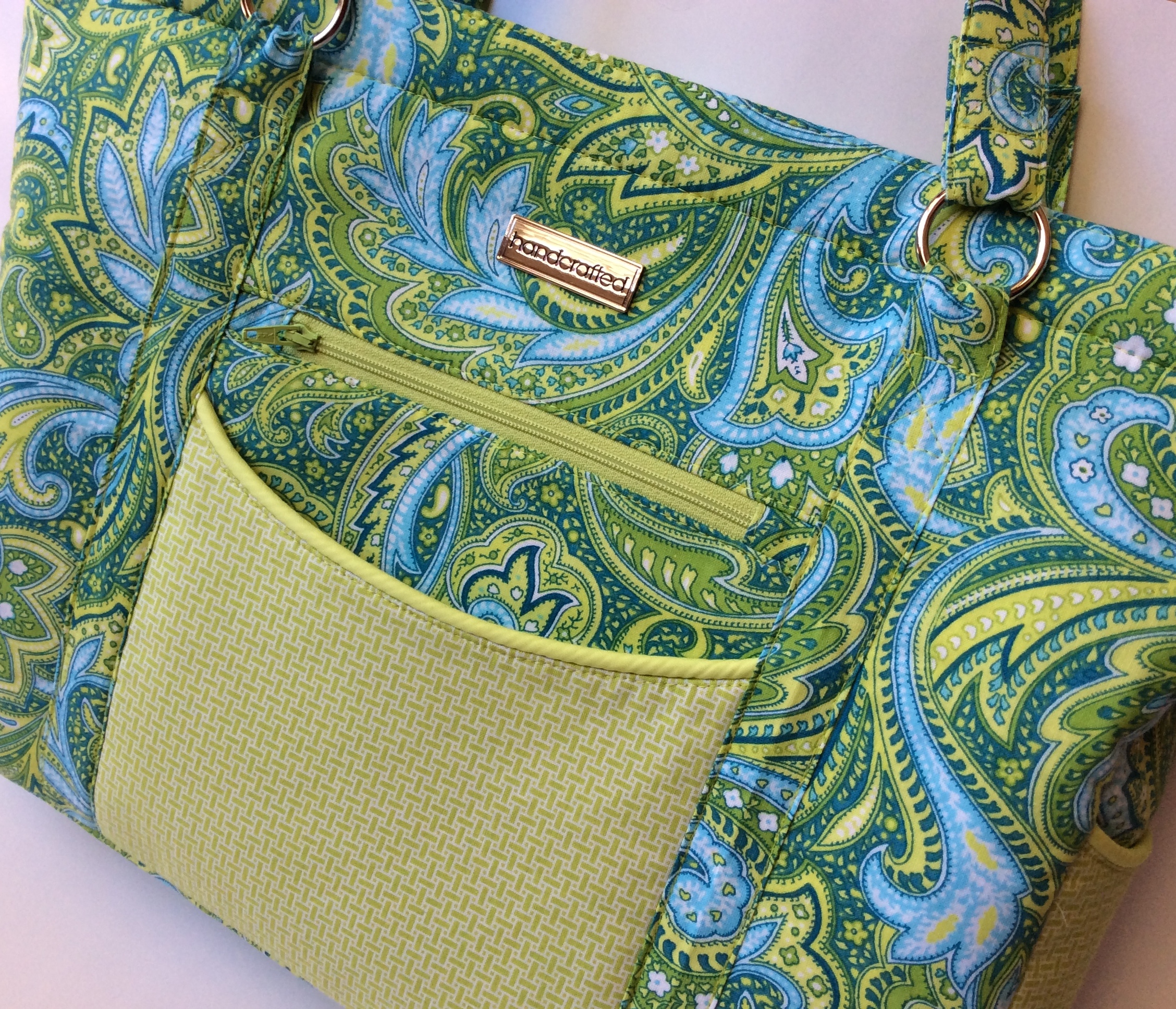 Sidekick Tote & Megan Travel Tote Pattern
This listing is for one PDF pattern to make the Sidekick Tote & Megan Travel Tote. The pattern includes all the instructions, dimensions for fabric cuts, and pattern pieces needed to make two different sizes of tote bags. This pattern has 47 pages that include great instructions and more than 100 color photographs so you can see what you're doing at each step! There are also instructions for printing that help reduce paper waste. This pattern is designed for those with intermediate sewing abilities. I think you will enjoy making and using both sizes of this tote!
The smaller, Sidekick Tote will keep any "Super Woman" organized with its great function and style. The SidekickTote's details – piping at the top of the curved pockets, a separating zipper bag closure, and strap pads – give this bag a professional look. There are twelve pockets in this tote; seven slip pockets, two expandable slip pockets, two zipper pockets, and a padded pocket for a tablet. The base is reinforced to handle heavy loads. This tote is the perfect Sidekick for everyday! The Megan Travel Tote is a much larger version of the Sidekick Tote. It has all the same features, but in a size that is perfect for travel. The Megan Travel Tote is a stylish way to pack everything you need for a long weekend getaway!
+ To see helpful links that are relevant to the Sidekick Tote & Megan Travel Tote pattern (tutorials, videos, extras, etc.), go to the "Useful Links" page!
I have included my email in the instructions so that if you have any questions as you make your totes, you can email me and I will gladly help you!
I cannot accept returns or make refunds on this product because of its digital nature. This purchase is for the pattern to make the Sidekick Tote and Megan Travel Tote, NOT for a finished bag.
You are welcome to sell items made from this pattern on Etsy, your own web site, your shop, etc. This pattern is not for use for mass production and selling.
When selling or listing items made from this pattern, please credit "Uniquely Michelle" in all item descriptions. You can do this by simply adding something like, "This item was made using the Sidekick Tote & Megan Travel Tote pattern by Uniquely Michelle."
I ask that you not claim this pattern as your own creation or allow others to use it. This pattern is only for the personal use of the individual who purchased the pattern, and may not be copied for others. The Sidekick Tote & Megan Travel Tote pattern and instructions may only be purchased from Uniquely Michelle.
Finished Size: (approximate measurements)
Sidekick Tote: 15" (38cm) wide, 12" (30½cm) high, 4" (10cm) deep
Megan Travel Tote: 19" (48cm) wide, 15" (38cm) high, 7½" (19cm) deep
Materials Needed:
The Sidekick Tote and the Megan Travel Tote can be made with either quilting cotton or mid-weight decorator fabric for the exterior. Quilting cotton is best for the lining and piping. The amounts given are for 44" wide fabric.
Exterior Fabric: 1½ yard Sidekick/2 yards Megan
Lining Fabric: 1 yard Sidekick/2 yards Megan
Accent Fabric: 1 yard Sidekick/2 yards Megan
Light Colored Scrap Fabric: ¼ yard (I use muslin)
50" wide fusible fleece: 1½ yards Sidekick/2 yards Megan (yardage amounts for using Flex Foam for some of the exterior parts of the tote are included in the pattern)
20" wide fusible woven mid-weight interfacing: 3 yards Sidekick/5 yards Megan
(such as Pellon Shapeflex #101)
fusible stabilizer: ½ yard (such as Peltex 71F)
Heavy-weight template plastic: 1 sheet Sidekick/2 sheets Megan
8" zipper: 1 (exterior zipper pocket)
14" zipper: 1 (interior zipper pocket)
Separating zipper: 1 @ 14" Sidekick/18" Megan (closure at top of bag)
3/16" cording (to make your own piping) or pre-made piping: 2 yards
3/8" wide elastic: ½ yard
4 O-rings 1" diameter Sidekick/1½" diameter Megan
Bag Feet (optional): 4 for Sidekick/6 for Megan
Thread
Water-soluble erasable marking pen or chalk pencil
Double-sided tape (1/4" wide) or fabric glue
Fray Check (optional)

©2015 Uniquely Michelle All Rights Reserved
After you have placed your order, you will receive a link to download the pattern(s) that you purchased. The link will expire 24 hours after it's first clicked.